When You're Ready to Heed the Call of the Mountains.
Mount Hayden Backcountry Lodge is designed to accommodate up to 18 people, as individuals, couples, or groups.  A fully renovated historic log cabin includes two private bunk rooms, Hayden (2ppl) and Richmond (3ppl),  and a Loft with bunk space for four.  In the Main Lodge, there is a partitioned bunk room ; the Imogene and Camp Bird each have a single bunk, and the Hidden Treasure has a double bunk.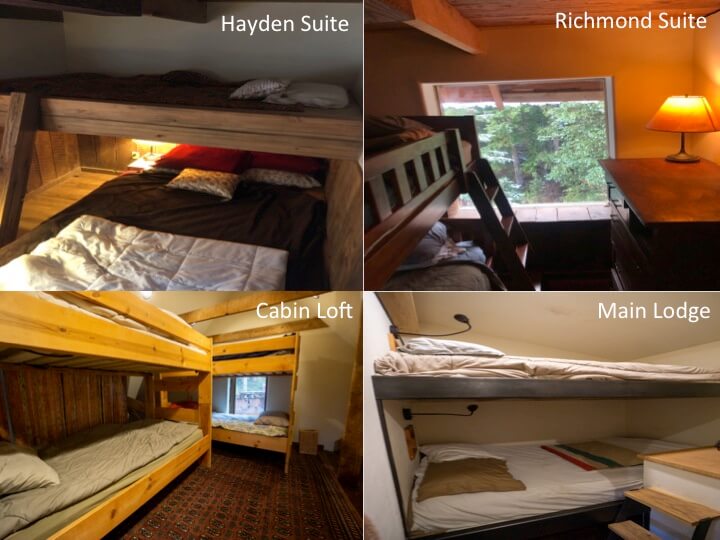 Cabin – Hayden Suite
Sleeps Two
Cabin – Richmond Suite
Sleeps Three
Double bunk base with twin bunk over head
Main Lodge
Shared/Partiton Space for up to Eight
Two twin bunk beds
One full bunk bed (sleeps four)
How to Get Here
Mount Hayden Backcountry Lodge is located at Lat 37.9568, Long -107.7205.
Directions from Ouray, Colorado:
Leave the south end of town on Hwy. 550. Directly after the big horseshoe bend (about ¼ mile), take a right on CR 361 (Camp Bird Rd.). Follow this for 4.7 miles, then take the broad left fork that goes toward Camp Bird Mine. In another 0.3 miles you'll reach a bridge. Park just before here if hiking and follow summer instructions below or switch to 4 low if jeeping. There is not a sign for the mine. PLEASE NOTE!  For winter guests there are special parking instructions and it is necessary for you to confirm details with MHBL.

WINTER , Drive 3.5 miles up CR361 and park facing angled down hill on the left just before the gate. Post official MHBL parking notice inside drivers side window.(observe winter closure signage) Continue hiking or skining the road for 1 ml. to a broad fork on the left. Take this left for .3 ml. then cross a bridge. Follow the road across the bridge between the historic "mansions" for approximately 45 minutes or 1.5 miles to reach the point where the road crosses the creek. Cross the creek and continue to follow the road for .4 miles to a wooden bridge on your right. Do not cross it, instead take an immediate sharp left at the sign for Richmond Trail. Follow the road up for .4 mile to a small wooden sign that reads Richmond Trail ½ mile with an arrow to the right. Instead go left for 200yds. to reach MHBL!


SUMMER, Arrive at the bridge described above at Camp Bird. Then follow the Imogene Pass jeep trail 1.8 miles from the bridge at Camp Bird in your off-road ready, high clearance 4WD vehicle, (not SUV or AWD) crossing the river once, until you see a sign to go left up Richmond Basin, just beyond a wooden bridge (not to be crossed). It's a sharp left, usually a three point turn. Follow the road up for .4 mile to a small wooden sign that reads Richmond Trail ½ mile with an arrow to the right. Instead follow the road to the left! This will lead you in 200 yards to Mount Hayden Backcountry Lodge! Park after crossing the small creek on your left.
---
Come prepared
but don't overpack.
Weather Resources
The weather up here at 11,000 feet can be fairly unpredictable. We're susceptible to the extremes of all seasons and unexpected shifts in nature's plan. In general, the winter season begins in October, with roads generally closed after the first snow, through May or even possibly late June. During this hike/ski-in only season, we get up to 450 inches of snow each winter. Avalanches are a threat and below-zero temperatures are normal. The short but splendid summer is sunny, warm but cool, with some rain and thunderstorms. Once the road re-opens it is driveable with a capable 4wd vehicle to the lodge until early October.
Current Weather for Mount Hayden Backcountry Lodge
For multi-day forecasts click the "more at dark sky" link to the right.
Current Avalanche Conditions in North San Juan Region
---
Local Resources We Recommend